Updated by AU Staff
Alliance University Small Groups
For more information email: smallgroups@allianceu.edu
Check out our Instagram for group descriptions: https://www.instagram.com/allianceu_smallgroups/
Small Groups provide a safe and intimate space for community to take place, promoting spiritual growth from a biblical foundation.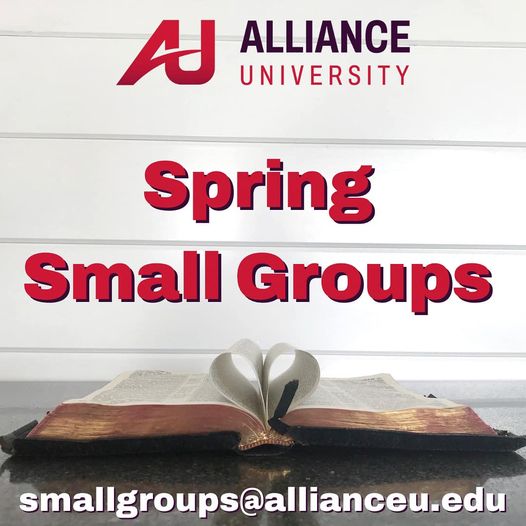 Taking Spiritual Authority Over My Life

Sunday 5pm - Virtual: Google Meet - Led by: Erica Williams
Life as we know it can be very uncertain and at times become overwhelming. Over the semester in this small group, we will review the spiritual disciplines in Richard J. Fosters book Celebration of Discipline: The Path to Spiritual Growth.
Get to know your leader: Erica Williams is a Mother and Healthcare professional pursuing her Master of Divinity at Alliance University. She has led this small group for three semesters and is excited to invite AU students into a deeper more intimate relationship with God by discussing spiritual disciplines like prayer, fasting, and solitude.

Athletes for One

Sunday 7:00 pm - In Person: At The Bay - Student Lounge Room 407
Led by Maggie Kowalik, Pastor Willie, Cheyenne Edwards,
Athletes gather to encourage each other in their faith. It is an opportunity to connect over the hard work it takes to compete at the NCAA DII level and help each other grow in their walk with the Lord.
Get to know your leaders: Maggie Kowalik is the Strength and Conditioning Coach at Alliance University. She is a personal trainer from Upstate New York and is currently on the American National Handball Team.

Don't Give the Enemy a seat at your table

Sundays 7:00 pm - Virtual (Google Meet) - Led by: Brian Gaughan
Link to study: https://watch.studygateway.com/dont-give-the-enemy-a-seat
In this six-session video Bible study, author and pastor Louie Giglio draws on Psalm 23 to show how believers in Christ should never give the enemy a 'seat at the table' and let him into their lives. Louie Giglio shares practical ways to overcome the Enemy's lies and instead find peace and security in any challenging circumstance or situation. he helps you find encouragement, hope, and strength in the midst of any valley as you reject the enemy's voices of fear, rage, lust, insecurity, anxiety, despair, temptation, or defeat.
Get to know your leader: Brian Gaughan is originally from Bergenfield, NJ and currently lives in West Palm Beach, Florida with his wife and 13 yr old son. He is an online Alliance University student in the MDiv Theology and Missions program. Biran shares, "I chose Alliance University because it is urban, multicultural, and spiritually vibrant. It is an excellent ministry training school. I have been in ministry for many years and want to grow as a spiritual leader through my studies. For the Spring 2023 semester, I am offering an online study through Psalm 23 guided by Pastor Louie Giglio, of Passion City Church in Atlanta, in his video series "Don't Give the Enemy a Seat at Your Table". I want to help build community among any interested Alliance University students as we study Psalm 23 and pray together"

Real Talk

Monday 7:00 pm 2/6 2/20, 3/6,3/27 - In Person: The Bay Student Lounge Room 407
Led by: Stephen Locke
Alliance University Presents Real Talk with Stephen Locke. Stephen asks the real questions. He invites AU Men to look at the aspects of Manhood through the lens of Jesus' teachings. Explore scripture with AU Men. Join Stephen at 7pm in the Student Lounge, Room 407, on February 6th, 20th, March 6th & 27th.
Get to know your leader: Stephen Locke is a Resident Director in our Alliance University dorm in Jersey City. He is enrolled in AU's MBA program.

Set Apart: A Beatitudes Study

Tuesdays 7:00 pm - Virtual (Google Meet) - Led by: Lavern White
In this Bible study through the beatitudes, author Jennifer Kennedy Dean examines the promise of blessedness in Christ's Sermon on the Mount. Unlike a circumstance-driven emotion, such as happiness, blessedness is eternal and grounded in the reality of Christ in you. We were made for holiness, and this core concept of the beatitudes is accessed through a praying life—a life lived in the present-tense power of God. It is only when we continually pursue holiness that blessedness comes, and we discover the power and fulfillment of the promise of God.
Get to know your leader: Lavern White graduated from Alliance University School of Counseling. She is a Reverand and the owner of Cakes By Faith. She has been a small group leader at AU for 3 semesters.

Chapel Chats

Tuesday and Thursday 1:00 pm - Led by: Raquel Shaffer
In Person: Lower Level Right side of Room
Gather together after chapel, enjoy lunch, and discuss the sermon.
Get to know your leader: Raquel lives in Haverstraw with her husband and two children. She was the AU Volleyball Coach for 15 years and has transitioned to Student Development as the Small Group Coordinator. She is currently enrolled in the MSOL graduate program.

Organize His Way

Alicia Morera Tirado - Virtual (Google Meet) - Saturday 10:30 am
"Organize His Way" reveals how our clutter keeps us from experiencing God's intimacy and blessings. Are we in love with God or just His stuff? "Organize His Way" reveals how our clutter keeps us from experiencing God's intimacy and blessings. Purchasing the book will be helpful https://www.amazon.com/Organize-His-Way-Eileen-Koff/dp/163232430X
Get to know your leader: Alicia is a linguist, an educator, a learner, and a facilitator. She is a 2022 AU graduate with a Master's in Childhood Education. Alicia is passionate about education, building community, and seeing everyone blossom into who God created them to be.

Soul Care

Led By: Kris & Bridgie Cook
7 Transformational Principles For A Healthy Soul: Brokenness grasps the soul of humanity. We are broken bodies, souls, and spirits, and we need the healing touch of Jesus. Soul Care explores seven principles that are profound healing tools of God: securing your identity, repentance, breaking family sin patterns, forgiving others, healing wounds, overcoming fears, and deliverance.
Life change is hard. But these principles, when packaged together and lived out, can lead to lasting transformation, freedom, and a healthy soul. Soul Care encourages you to gather a small group of comrades in arms, read and process together, open your souls to one another, access the presence and power of God together, and journey together into the freedom and fullness of Christ.
Get to know your leaders: Kris and Bridgie Cook are Christian and Missionary Alliance International Workers in France. They are spending this semester living in AU's residential hall with their daughters. They share their love for food, family, and God with our students.

Healing from Trauma

Tuesdays 5-6 pm (8 Weeks) - Virtual-Closed group to new members after 2 weeks
Led By: Lea Cadet & Felicita Johnson
This is a supportive group that explores and processes one's personal experience with trauma while normalizing that experience and working towards healing.

Waiting in Motion: Finding Wholeness in Singlehood

Wednesday 5pm - 6pm - Led By: Sally Jang
In Person: Closed - closes after max. of 5 members is reached, process, psychoeducation
This is a process-oriented educational group for navigating the challenges of relationships and making the best of our singleness.

Coloring Life's Blues: Artistic Path to Healing

Thursdays: 2-3pm (8 Weeks) - In-person(Location: TBA)-Closed group to new members after 2 weeks
Led By: Bérengère Howard & Eliza Gloragille

Support Group

Fridays: 11-12pm (8 Weeks) - Led By: Maggie Labocki
Virtual-Closed group to new members after 2 weeks
Provide a safe place to get support for any type of unhealthy patterns, habits, and/or dependencies &-Discuss challenges & helpful coping strategies

Cultivating Relationships

Fridays: 2-3pm (8 Weeks) - Virtual-Closed group to new members after 2 weeks
Led By: Orshum Lumpkin & Peter Maldonado
This small group will assist with understanding the spoken and unspoken issues in relationships when it comes to communication. This information will be helpful in all kinds of relationships including married, single, dating, friendship, and family relationships.