School of Nursing History and Legacy
School of Nursing History and Legacy
Updated by AU Staff
The Life and Legacy of Betty Ann Olsen, R.N.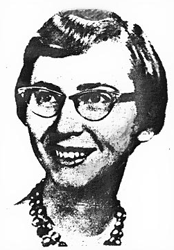 Betty was born in 1934 and raised in Africa, the daughter of C&MA missionaries, Rev. and Mrs. Walter Olsen. The Olsens served in the former Ivory Coast, now Côte d' Ivoire. As a missionary kid, she experienced many of the joys and sorrows that accompany life on the mission field. In From Jerusalem to Irian Jaya, Ruth Tucker describes the teenage Betty Olsen as an obstinate young person who avoided close relationships. Betty's insecurities intensified when, shortly before her seventeenth birthday, her mother died of cancer (Tucker 2004, 412).
Upon completion of high school in the United States, she returned to Africa. After her father remarried, she went back to America and began nurses training in Brooklyn, N.Y. (Tucker 2004, 412). She received her nursing degree from Methodist Hospital, Brooklyn, N.Y. in 1956 and graduated from Nyack Missionary College in 1961 (Edman 1968, 12).
Betty struggled emotionally, desperately desiring to have a family of her own, but that dream went unfulfilled. She did not believe that the Alliance would accept her as a missionary candidate, so she returned once again to Africa to work with her father and stepmother. She had difficulty working with others, and therefore went back to the U.S. (Tucker 2004, 412).
At the age of twenty-nine, Betty began work as a nurse in Chicago, totally defeated as a Christian. Her depression ran so deep that she contemplated suicide, but was then greatly helped by her church youth counselor. The counselor's name was Bill Gothard, who later conducted the widely popular seminar called Institute in Basic Youth Conflicts, "based largely on the questions Betty Olsen asked" (Tucker 2004, 412).
In 1964 Betty went to Vietnam to serve as a missionary nurse with The Christian and Missionary Alliance. This was an especially difficult time to live and work in Vietnam, especially for Americans. Betty ministered for nearly three years at the leprosarium in Banmethuot, a place already acquainted with danger and loss. Three missionaries had been taken captive from that same area back in 1962, never to be heard from again (pownetwork.org 3/31/204).
During the Tet Offensive of 1968, six Alliance missionaries lost their lives–Ed and Ruth Thompson, Robert Ziemer, Carolyn Griswold, her father, Leon Griswold, and Ruth Wilting, R.N. "The six were all alumni of Nyack" (Hefley 1969, 186). During that siege the Viet Cong also captured Betty, Hank Blood of Wycliffe Bible Translators, and Mike Benge, an American AID officer. Betty was taken captive during the attacks on the mission compound while she courageously attempted to secure medications for the wounded. For several months, the three captives suffered indescribable torture and indignity. They were forced to march twelve to fourteen hours a day in the jungle on meager rations. Olsen and Blood died during their captivity (Tucker 2004, 411-413).
Mike Benge remained a POW until 1973. Benge came to Christ through the faithful witness and selfless example of the two missionaries. He stated that Betty's love was more than he could comprehend: "She never showed any bitterness or resentment. To the end she loved the ones who mistreated her" (Hefley 1979, 95, 131).
There are two houses on the former Nyack campus named in honor of two of the martyred missionaries, Betty Olsen and Carolyn Griswold. Alliance University is looking for those who would join a new generation of students whose desire it is to make an impact on this world for Christ, as these former alumni have done. It is our hope that many of you reading this article will be challenged to follow Betty's example as a nurse dedicated to serving God and others and that you will be inspired to take advantage of Alliance University new nursing degree program to prepare yourself for such service. We also hope that others will be motivated to come alongside these students as they prepare to serve the Lord, no matter where He leads.
Dr. Ed Stuart – Department of Intercultural and Religious Studies