Uploading Documents to Student Portal
Uploading Documents to Student Portal
Updated by Marilyn Rodriguez
How do I upload documents to the Student Portal?
How do I upload my missing documents?
To know what documents are missing and how to upload them to Campus Vue, follow these steps:
Go to the my.allianceu.edu website.
Sign in with your Alliance University email.
Click on Student Portal, as shown below. 
Click on My Documents
Click on Document Center to view the documents that are due
A list of the required documents you are missing will be shown. For example
Select the document you want to upload from the dropdown menu.
Chose the document you wish to upload from your files. For example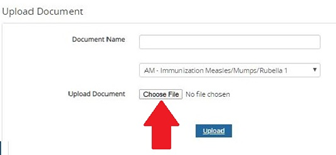 Once you have chosen the document from your computer files, upload.