Nelnet Payment Plan - Undergrad
Nelnet Payment Plan - Undergrad
Updated by Marilyn Rodriguez
How do I set up a Nelnet Payment Plan? - Undergrad
Creating an Account
Click on the Nelnet Payment Plan link or the link found on payment option 2 of your bill as indicated below 
Carefully read the specifics of the payment plan and click on the payment plan icon

If you have an existing account, click sign in under "Have an account."  If you do not have an account, click on Choose New Account to create a username and password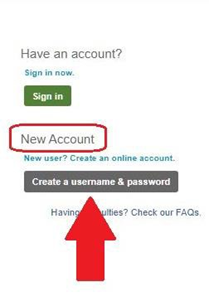 Enter your Email address and click Next. We advise not to use your a student or an employee as the primary email address.
Click on Create a new Nelnet Account and click Next
Enter your information on the Create Account on the Contact info page and click Next
On the Email page, enter the email address most often checked and click Next.
Enter your username and create a password following the guidelines.

Select pin and security questions. Click Submit. Write the username and password in a safe place for future reference. 
Undergrad students, please select the NYACK ANNUAL for the Academic Year, unless instructed otherwise by your counselor, and click "Set up a Payment Plan".
Summer Session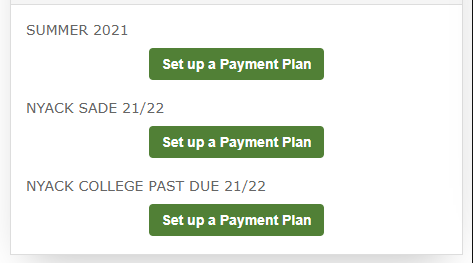 Enter your six-digit student ID number. (Your six-digit ID can be found below your name on your bill or on your student ID Card.)
On the student's page, click Add Student to enter your information. Please note ONLY ONE STUDENT per account.
Enter the Student name and Student ID number where the funds are to be applied to and click next.
In the Amount Due box, enter the Total ESTIMATED ANNUAL Balance Due and click next. (The Total ESTIMATED ANNUAL Balance Due can be found in the yellow box on your bill, as shown below.)

Payment Plan Options
To view and select a payment schedule, click on the "Show:" drop-down menu on the right-hand side. 
When you have chosen the number of payments, click select on the left-hand side as pictured below.
Once you click OK, there is a NONREFUNDABLE fee.

Method of Payment
Select your choice payment (checking, savings, credit, or debit card) and click next.

If you are paying using a checking or savings account, select "Add Bank Account." 
If you are paying using a credit or debit card, select "add credit card" and click next. 
Enter your card details along with your billing information and click Save.  
Your payment schedule will appear as the example below. Review and accept.

Please note any request to adjust the payment date must be made 5 business days prior to the date scheduled.