Updated by Marilyn Rodriguez
Nyack offers several options for making payments towards your account balance.
Onetime online payment 
Nelnet monthly payment plan
Check
Wire Transfer
Loans

Parent Plus Loan (undergrad)
Alternative Loan (undergrad)

Grad Plus Loan
Onetime payment
Click on the one-time online payment link to make a payment by debit or credit card.
Enter the information on the required fields giving special attention to

Student's full name
Student ID#
Enrollment status
Additional comments relating to the account

Enter student information and click pay.
Review the information and click on proceed to checkout.
Complete the billing information
Enter credit or debit card information 
Click place order
Nelnet Payment Plan 
Check
Pay to the order of Nyack College
Mail to: 2 Washington Street, New York NY 10004 Attention: Student Financial Services.
Write the student ID number on the memo as pictured below.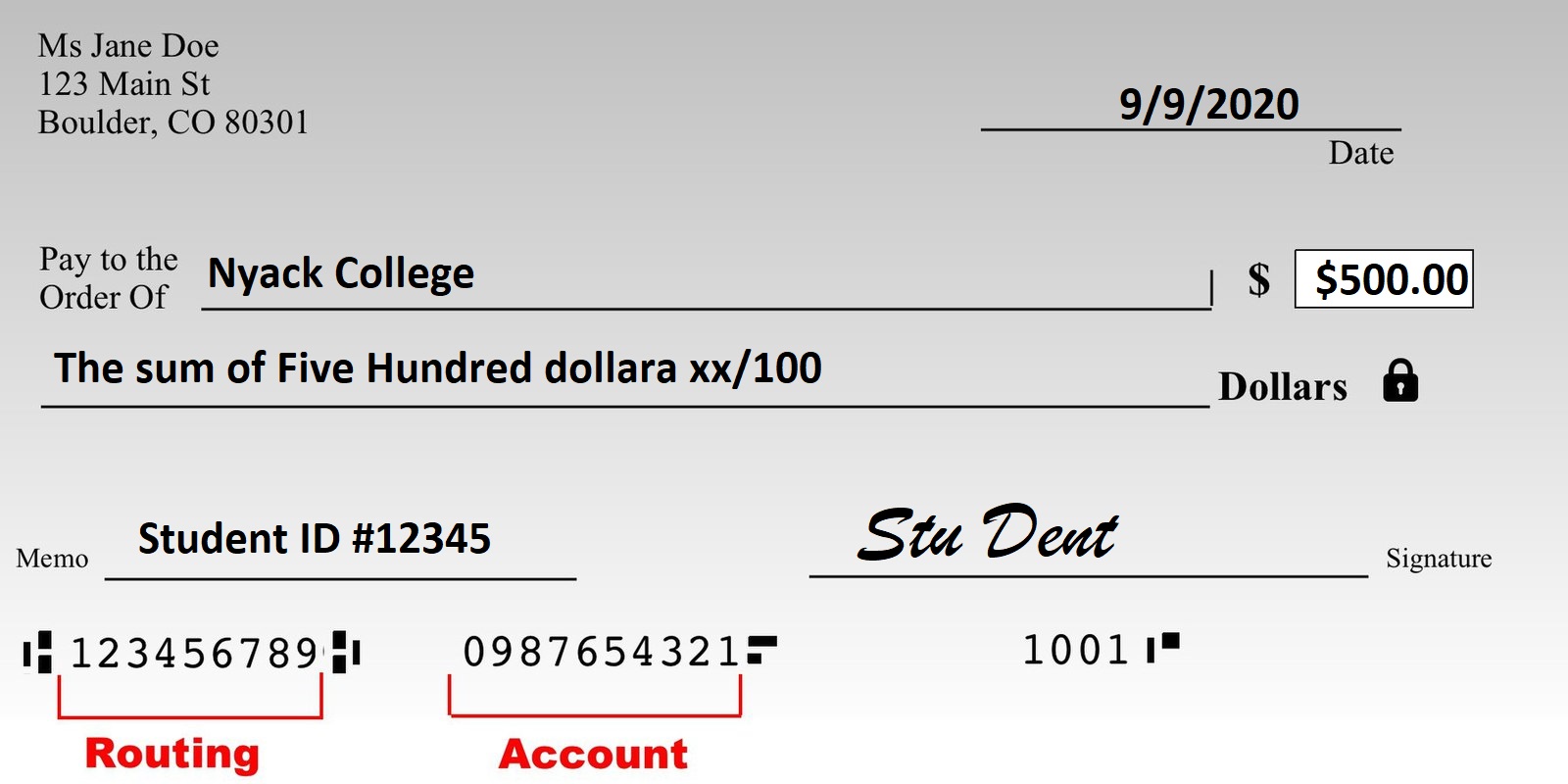 Domestic Wire Transfer

International Wire Transfer

Loans
Parent Plus Loan 
Parent PLUS loans are federal student loans issued directly to parents. They take a look at your credit, offer some flexibility in repayment options, and the ability to fill funding gaps after exhausting federal student loans to students, grants, and scholarships.
eligible dependent undergraduate students
To be eligible to borrow PLUS loans as a parent, you must:

Be a U.S. Citizen or National or Permanent Resident/Other Eligible Non-Citizen
Be the biological or adoptive parent of the student.
Be the spouse of the student's parent and considered to be a parent in accordance with the instructions on the Free Application for Federal Student Aid (FAFSA) for purposes of reporting income and assets on the FAFSA
Have made satisfactory arrangements to repay the amount owed after receiving more money than you were eligible to receive from one of the Title IV programs (e.g., Federal Perkins Loan, Federal Pell Grant, a federal student loan)
Have made satisfactory arrangements to repay the amount owed on any loan you are in default on from one of the Title IV programs (e.g., Federal Perkins Loan, Federal Pell Grant, a federal student loan)
Have fully repaid to the U.S. Department of Education (ED) or to the loan holder in the case of a Title IV federal student loan, if convicted of, or pled nolo contendere (no contest) or guilty to, a crime involving fraud in obtaining funds under a program authorized under Title IV of the Higher Education Act of 1965, as amended (HEA).
Private student loans – also known as alternative loans – are offered by private lenders to provide funds to pay for educational expenses. They are not part of the federal student loan program and generally do not feature the flexible repayment terms or the borrower protections offered by federal student loans.
Grad Plus loan
Eligible graduate/professional students
The Direct PLUS Loan Application allows you to authorize the school to use your loan funds to satisfy other educationally related charges after tuition and fees and room and board have been paid.