Borrowers Right to Cancel
Borrowers Right to Cancel
Updated by Marilyn Rodriguez
BORROWERS RIGHT TO CANCEL letter received in the mail.
The notice informs you that  Alliance University has received the stated loan, and the credit has been posted to your account at Alliance University.
As a borrower, you have the right to cancel all or part of this within 30 days of disbursement by not contacting Alliance University student financial services, stating that you wish to cancel the loan. It will be an unspoken agreement that you accept the responsibility for the loan.
You will incur a balance by canceling your loan, and a form of payment must be made to replace the loan amount and pay the balance.  
You have the right to cancel the student loans packaged for the upcoming semester before the loans disburse to your account.
Bear in mind, by canceling your loans, you must provide another form of payment for the amount the loan would have paid.
The canceling of loans can be made possible in two different ways.
The first is through the Alliance University website.
Go to https://allianceu.edu
Click on admissions & Aid for the drop-down menu.
Click on Undergrad Financial Services.
Click on Student Financial Services Documents
Click on Decline Direct Stafford Loan
Click on Detail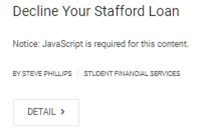 Complete the form. Make sure to click on I'm not a robot and submit.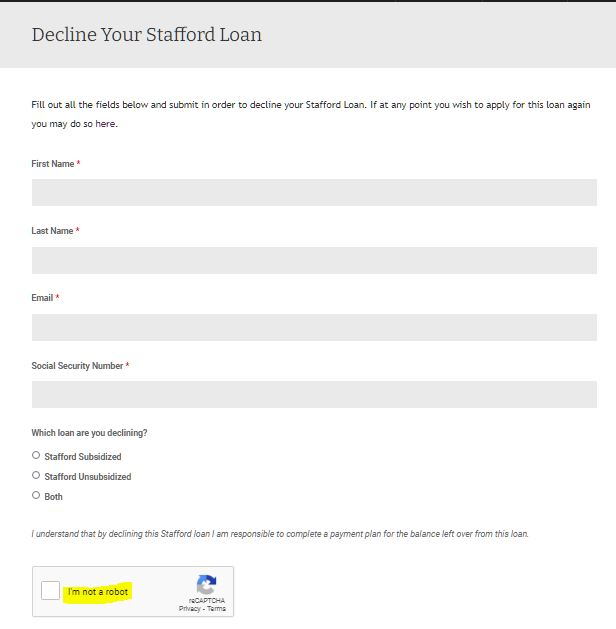 The second is by completing the Borrower's Right to Cancel.
Before the loans are disbursed, the student is sent via USPS mail to the address on file.
The Borrowers Right to Cancel letter for each loan that will disburse that semester.
For example:
RE: BORROWERS RIGHT TO CANCEL
This notice is to inform you that your DIRUNSUB - Federal Direct Unsubsidized Loan has been received at Alliance University and that the funds have been credited to the tuition account of Stu Dent.
You have the right to cancel all or part of this DIRUNSUB - Federal Direct Unsubsidized Loan disbursement within 30 days of disbursement. If Alliance University does not receive notification by you before this date, acceptance of the loan will be assumed.
If by cancelling your loan you incur a balance due on your Alliance University/ ATS account, or if you have questions regarding your loan, you are required to bring this notification letter in person to discuss it with your Financial Aid Counselor.
I wish to cancel the amount of$ _______ of the above mentioned loan disbursement.
Signature Date